The Sand Ring - Titanium Core
Regular price

Sale price

$300.00
The Sand Ring is a bespoke celebration ring created using the sand or stone from a place that has a special meaning to you.
This design is customizable to make a keepsake jewelry piece that is perfect for you - please get in touch to discuss special requests.
PLEASE NOTE
Please make sure that only responsibly and legally sourced samples of any kind are sent our way – we do not encourage, accept or take responsibility for materials sourced in violation of any laws or regulations, local or otherwise. SangrealRings LTD takes no responsibility for, and will not be liable for any errors or omissions on the customer's behalf.
Share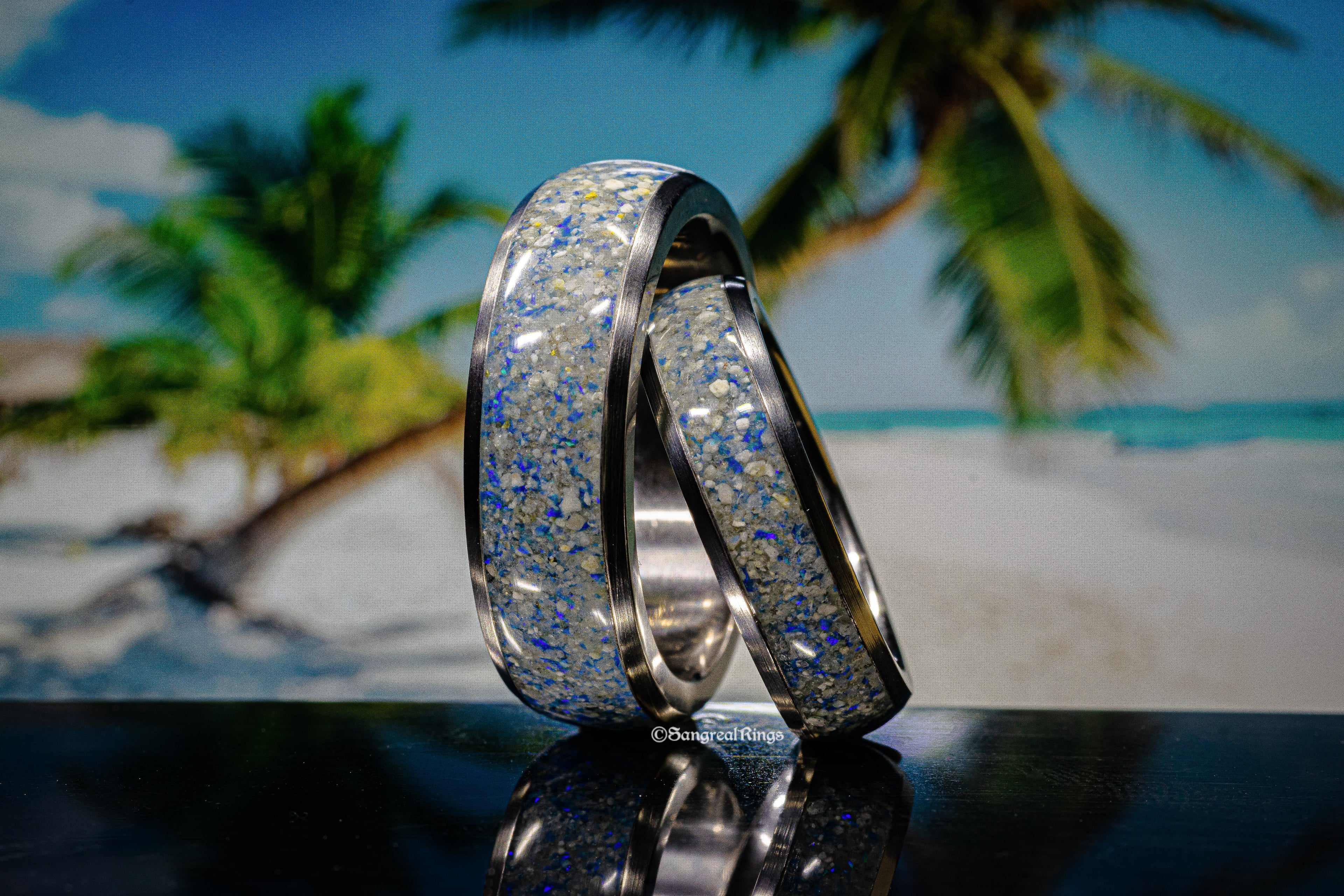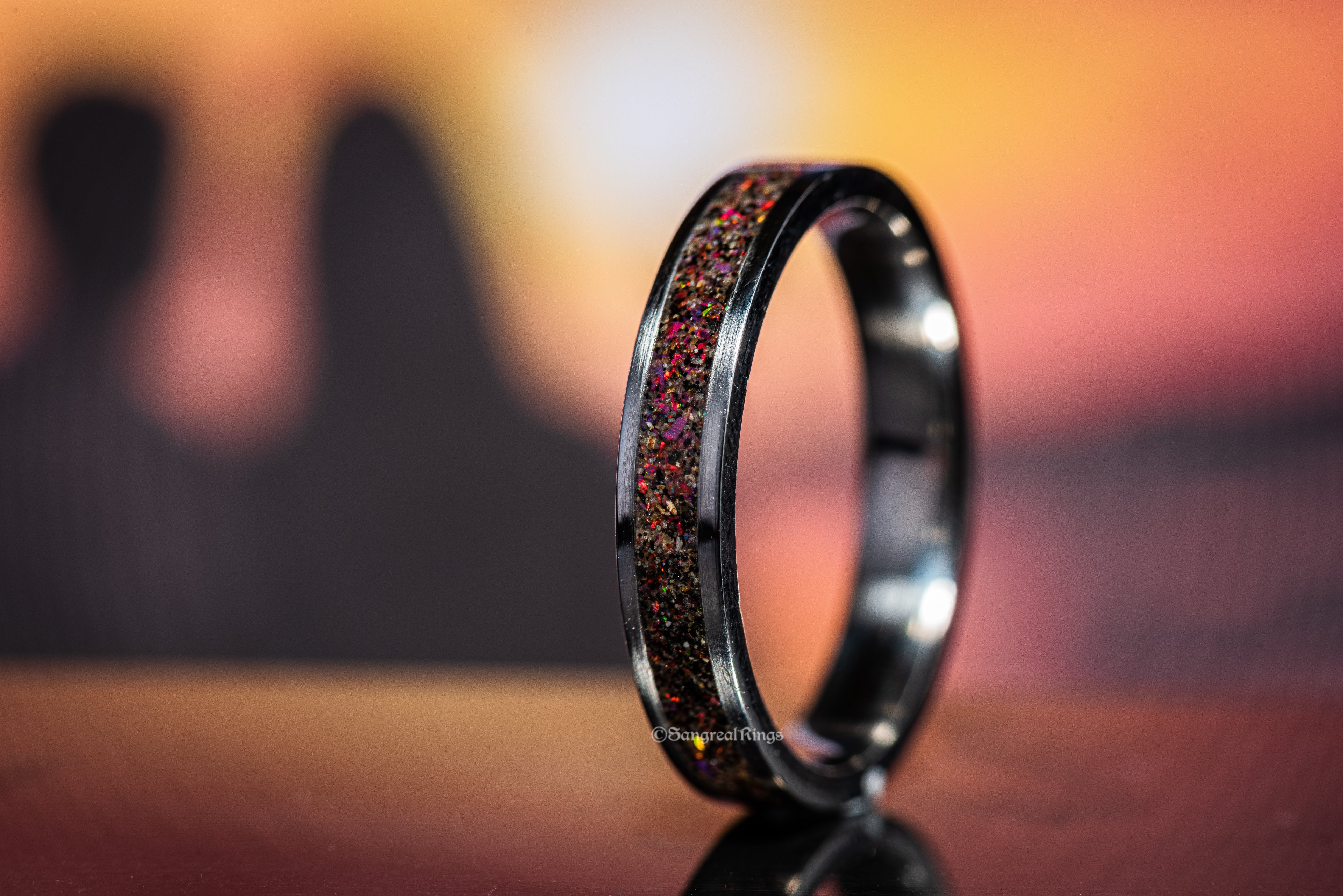 SIZE CHART
DIAMETER 

MM

US/CANADA

UK/AUSTRALIA

15.7 mm
5
J 1/2
15.9 mm
5.25
K
16.1 mm
5.5
K 1/2
16.3 mm
5.75
L
16.5 mm
6
L 1/2
16.7 mm
6.25
M
16.9 mm
6.5
M 1/2
17.1 mm
6.75
N
17.3 mm
7
N 1/2
17.5 mm
7.25
O
17.7 mm
7.5
O 1/2
17.9 mm
7.75
P
18.1 mm
8
P 1/2
18.3 mm
8 1/4
Q
18.5 mm
8 1/2
Q 1/2
18.7 mm
8 3/4
R
18.9 mm
9
R 1/2
19.2 mm
9.25
S
19.4 mm
9.5
S 1/2
19.6 mm
9.75
T
19.8 mm
10
T 1/2
20 mm
10.25
U
20.2 mm
10.5
U 1/2
20.4 mm
10.75
V
20.6 mm
11
V 1/2
20.8 mm
11.25
W
21 mm
11.5
W 1/2
21.2 mm
11.75
X
21.4 mm
12
X 1/2
21.6 mm
12.25
Y
21.8 mm
12.5
Z
22 mm
12.75
Z 1/2
22.2 mm
13
 
Sand ring
Professionally made ring with sand from our special place, we both love it! Thank you very much.
Sand ring that blows you away
Excellent communication at all times from the seller. The ring came when promised and came beautifully packaged. The ring has an awesome finish and the customization and sizing was bang on. Can't recommend enough.
Awesomeness
Very well made and polished. Nice packaging as well. They communicate very well throughout the entire process. I couldn't be happier.
Amazing!
Ordered my fiancés wedding band with sand from the beach he proposed on. Communication was excellent throughout and didn't once stress about the ring at any point due to this. The ring arrived very well packaged and fits perfectly. You've exceeded our expectations! Thank you
I love my wedding band!
I wanted a wedding band that was truly unique and had a story behind it that was meaningful to me and my fiancé. You definitely achieved this! And on top of that, it's an absolutely beautiful ring. Thank you so much!