The Sand Ring - Black Ceramic Core
Regular price

Sale price

$300.00
The Sand Ring is a bespoke celebration ring created using the sand or stone from a place that has a special meaning to you.
This design is customizable to make a keepsake jewelry piece that is perfect for you - please get in touch to discuss special requests.
PLEASE NOTE
Please make sure that only responsibly and legally sourced samples of any kind are sent our way – we do not encourage, accept or take responsibility for materials sourced in violation of any laws or regulations, local or otherwise. SangrealRings LTD takes no responsibility for, and will not be liable for any errors or omissions on the customer's behalf.
Share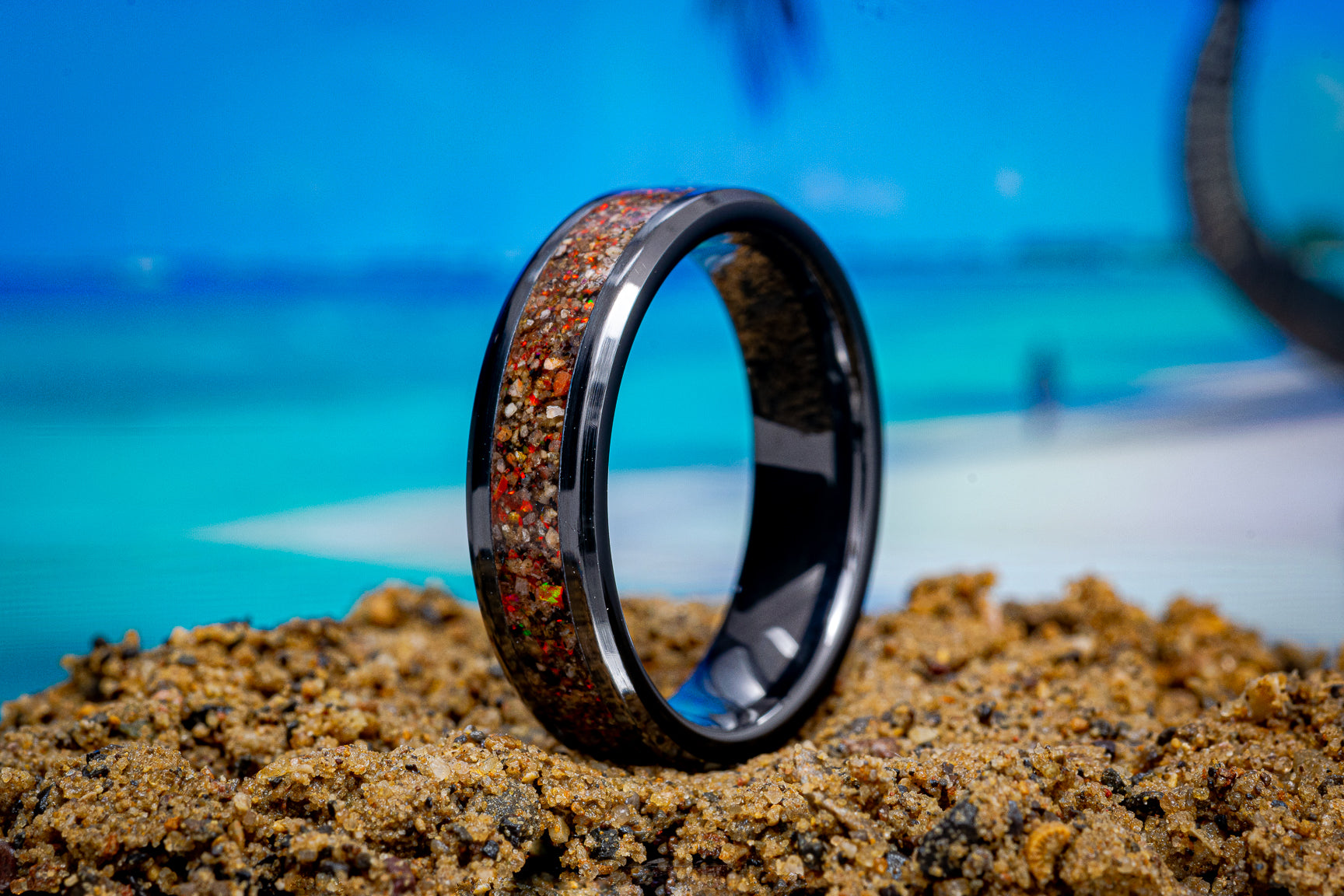 SIZE CHART
DIAMETER 

MM

US/CANADA

UK/AUSTRALIA

15.7 mm
5
J 1/2
15.9 mm
5.25
K
16.1 mm
5.5
K 1/2
16.3 mm
5.75
L
16.5 mm
6
L 1/2
16.7 mm
6.25
M
16.9 mm
6.5
M 1/2
17.1 mm
6.75
N
17.3 mm
7
N 1/2
17.5 mm
7.25
O
17.7 mm
7.5
O 1/2
17.9 mm
7.75
P
18.1 mm
8
P 1/2
18.3 mm
8 1/4
Q
18.5 mm
8 1/2
Q 1/2
18.7 mm
8 3/4
R
18.9 mm
9
R 1/2
19.2 mm
9.25
S
19.4 mm
9.5
S 1/2
19.6 mm
9.75
T
19.8 mm
10
T 1/2
20 mm
10.25
U
20.2 mm
10.5
U 1/2
20.4 mm
10.75
V
20.6 mm
11
V 1/2
20.8 mm
11.25
W
21 mm
11.5
W 1/2
21.2 mm
11.75
X
21.4 mm
12
X 1/2
21.6 mm
12.25
Y
21.8 mm
12.5
Z
22 mm
12.75
Z 1/2
22.2 mm
13
 
Amazing Service & Wedding Band
Ordered my ring back in June and promptly received an email directly from silversmith and he informed me my ETA would be around August! I then forgot to send out my sand but he checked in to remind me in July and still had my ring to me in August! They have amazing communication with you on anything you need and so very timely! They made this is a super easy process and my Fiancé and I are obsessed with this ring (it is made with sand from where he proposed to me at)!! I would absolutely order another ring from them if we ever needed it!!
Exceptional Quality and Customer Service!!!
This experience has been amazing and the simplest purchase I have ever made!! The communication with Sangreal Rings has been incredibly detailed with easy to follow directions. Any questions I had or adjustments were addressed timely and with professional ease. The ring was delivered on time (despite being overseas) and in beautiful packaging. It was a surprise for my significant other who absolutely loved the details with the crushed opal amidst the sand I mailed to the company. The ring fit perfectly and my significant other has commented on how comfortable the ring is to wear. I highly recommend Sangreal Rings for anyone!! This process has been a dream from start to finish with a wonderfully unique gift.
Beautiful Ring!
I found Sangreal Rings on TikTok and knew I had to order a custom wedding ring for my fiance. We collected sand from the beach we are to be married on and I shipped it Internationally, with ease due to the amazing instructions I received once placing my order. Daniel did such an awesome job crafting the ring. We ordered a black ceramic core ring with one sand inlay. The sizing cooresponded perfectly with the US sizing and the ring fits just as good as the one he tried on in the store when we got sized. I could not be happier with our purchase!
Completely Blown Away!
Never have I been so grateful and blown away by the attention to detail and the quality of something custom-made before. The level of finish on my ring is unbelievable. I am so happy with the outcome. I can't recommend these enough; the whole experience was a blast, and the customer service was second to none! Thank you again for my ring!
Service and Quality Exceeded Expectations
We just received my fiancé's sand ring two days ago, and we're beyond satisfied! (We went with the narrower black ceramic core with sand from a beach in Florida). The creator made the process very easy and transparent. After I placed my order, he promptly emailed me detailed instructions for sending our sand from the US to the UK. He reached out again once he received our sand, and provided me with updates throughout the process. I was ecstatic when I received his email with the link to the TikTok video of him making the actual ring. Finally, he sent me a tracking number to keep tabs on the ring's journey back to the states.
The service that the creator provided was truly next level. You will not be disappointed!