Black Ceramic, Opal and Meteorite
Regular price

Sale price

$312.00
Introducing our stunning black ceramic ring with a breathtaking synthetic opal and nantan meteorite inlay. This ring is a true masterpiece, combining the durability of ceramic with the otherworldly beauty of a meteorite and the mesmerizing colors of synthetic opal to create a one-of-a-kind piece of jewelry.
The black ceramic used in the ring is highly durable and resistant to scratches, making it the perfect choice for those who want a ring that will last for years to come. The nantan meteorite inlay, with its unique and fascinating patterns, adds a touch of wonder and mystery to the ring. The synthetic opal inlay, with its iridescent colors and captivating sparkle, adds a touch of elegance and sophistication to the ring.
Each ring is carefully crafted with precision and attention to detail, ensuring that it meets our high standards of quality. The nantan meteorite used in the inlay is an authentic piece of space rock that has traveled through the cosmos and landed on Earth. The synthetic opal used in the inlay is of the highest quality and is selected for its brilliance and clarity.
Not only is this ring a beautiful piece of jewelry, but it also has a unique story and history that makes it even more special. It's a perfect way to show your loved one how much they mean to you or to add a unique and meaningful piece to your own collection.
Whether you're an astronomy enthusiast or just appreciate the beauty of natural materials, our black ceramic ring with a synthetic opal and nantan meteorite inlay is the perfect choice. Order yours today and experience the timeless beauty and exceptional craftsmanship of this exquisite ring.
Share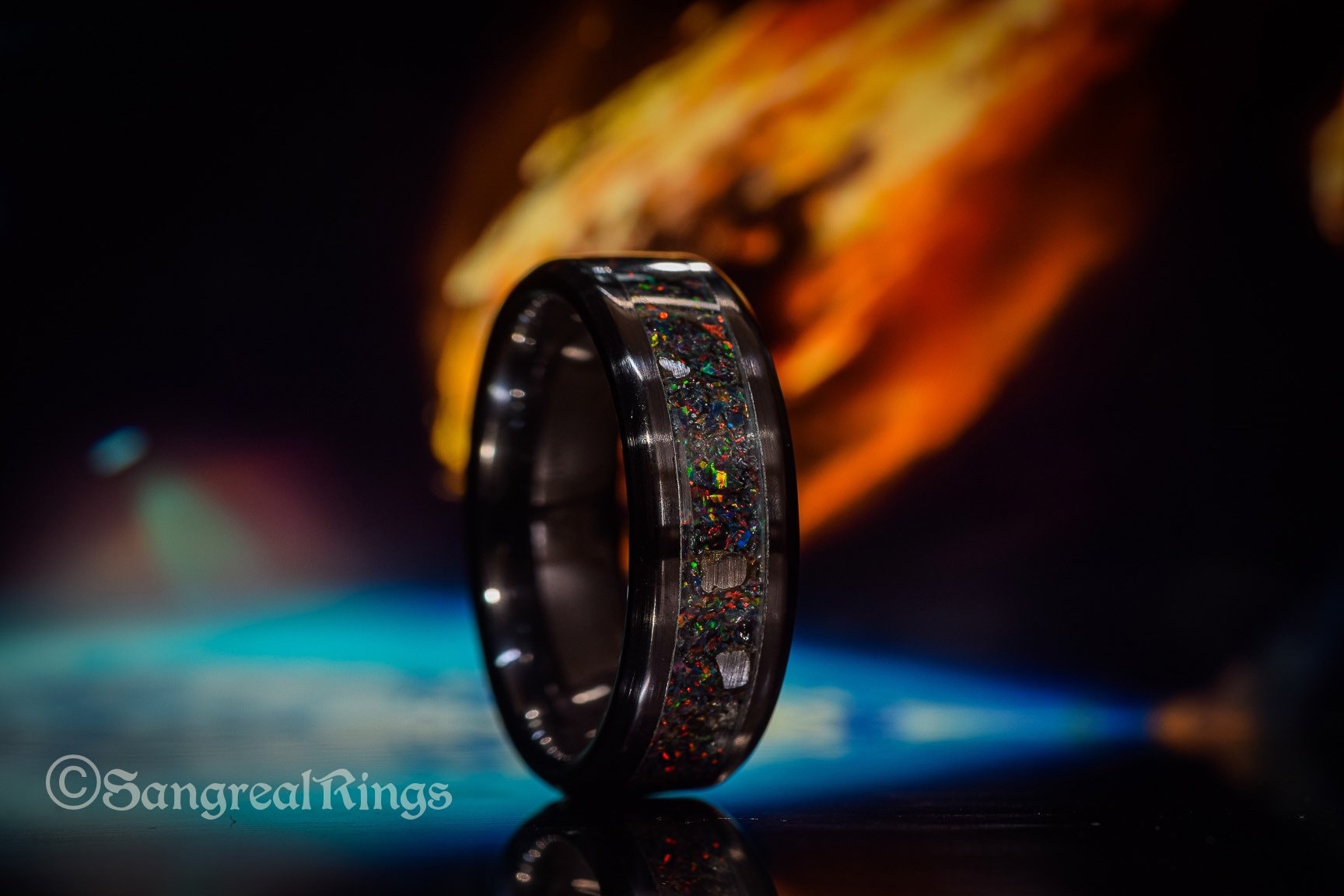 SIZE CHART
DIAMETER 

MM

US/CANADA

UK/AUSTRALIA

15.7 mm
5
J 1/2
15.9 mm
5.25
K
16.1 mm
5.5
K 1/2
16.3 mm
5.75
L
16.5 mm
6
L 1/2
16.7 mm
6.25
M
16.9 mm
6.5
M 1/2
17.1 mm
6.75
N
17.3 mm
7
N 1/2
17.5 mm
7.25
O
17.7 mm
7.5
O 1/2
17.9 mm
7.75
P
18.1 mm
8
P 1/2
18.3 mm
8 1/4
Q
18.5 mm
8 1/2
Q 1/2
18.7 mm
8 3/4
R
18.9 mm
9
R 1/2
19.2 mm
9.25
S
19.4 mm
9.5
S 1/2
19.6 mm
9.75
T
19.8 mm
10
T 1/2
20 mm
10.25
U
20.2 mm
10.5
U 1/2
20.4 mm
10.75
V
20.6 mm
11
V 1/2
20.8 mm
11.25
W
21 mm
11.5
W 1/2
21.2 mm
11.75
X
21.4 mm
12
X 1/2
21.6 mm
12.25
Y
21.8 mm
12.5
Z
22 mm
12.75
Z 1/2
22.2 mm
13
 
Absolutely Gorgeous
The colors are just beautiful with the way the materials catch the light. The band is very lightweight but also very sturdy. I got this as a surprise for my husband, he loves it!
Love it!!
Love the ring!! It's looks wonderful!! Now my daughter wants one. Thank you very much!!!
Stunning
The ring is even more beautiful in person. Jewellers often use special lighting that could make glass sparkle like a diamond but this ring really does sparkle the same as the video and pictures. I loved the packaging too non conspicuous and fit through my letterbox so I didn't need to worry about being in. The link to the video was a lovely touch too.
Excellent quality
I received my ring a few days ago and it is just stunning! You can really see the time, effort, and personal touch that went into making it. The material is sturdy and the ring is well worth the money.
Just wow!
Received my ring a couple of days ago and wow it is absolutely stunning! Daniel is super talented in what he does, any questions I had he answered, he kept me up to date with it all and is genuinely a really lovely guy. I could sit and watch him make rings all day! Thank you again so much!!