The Memorial Ring - Ashes & Opal
Regular price

Sale price

$295.00
The Memorial Ring is a keepsake jewelry piece created to celebrate the memory of your passed loved ones. It is made using a tiny amount of cremation ashes and crushed synthetic opal to create a flash of brilliant color when in light, all set in a Titanium band.
The Ashes & Opal variant includes the cremains placed alongside your chosen color of synthetic opal shards - the original design seen in the photos uses holographic shards, but please message me to discuss a specific alternative option if preferred.
Once an order is placed, an ash sample collection pack will be sent your way. It will contain a little pot and an instruction leaflet on how to securely collect an ash sample and send it back to me safely, so I can begin working on this special piece.
If you would like to know more about the production process of this ring or if you have any other questions, please check the FAQ section or message me directly.
Please note:
Due to the nature of this design, it is only available to order within the UK.
Share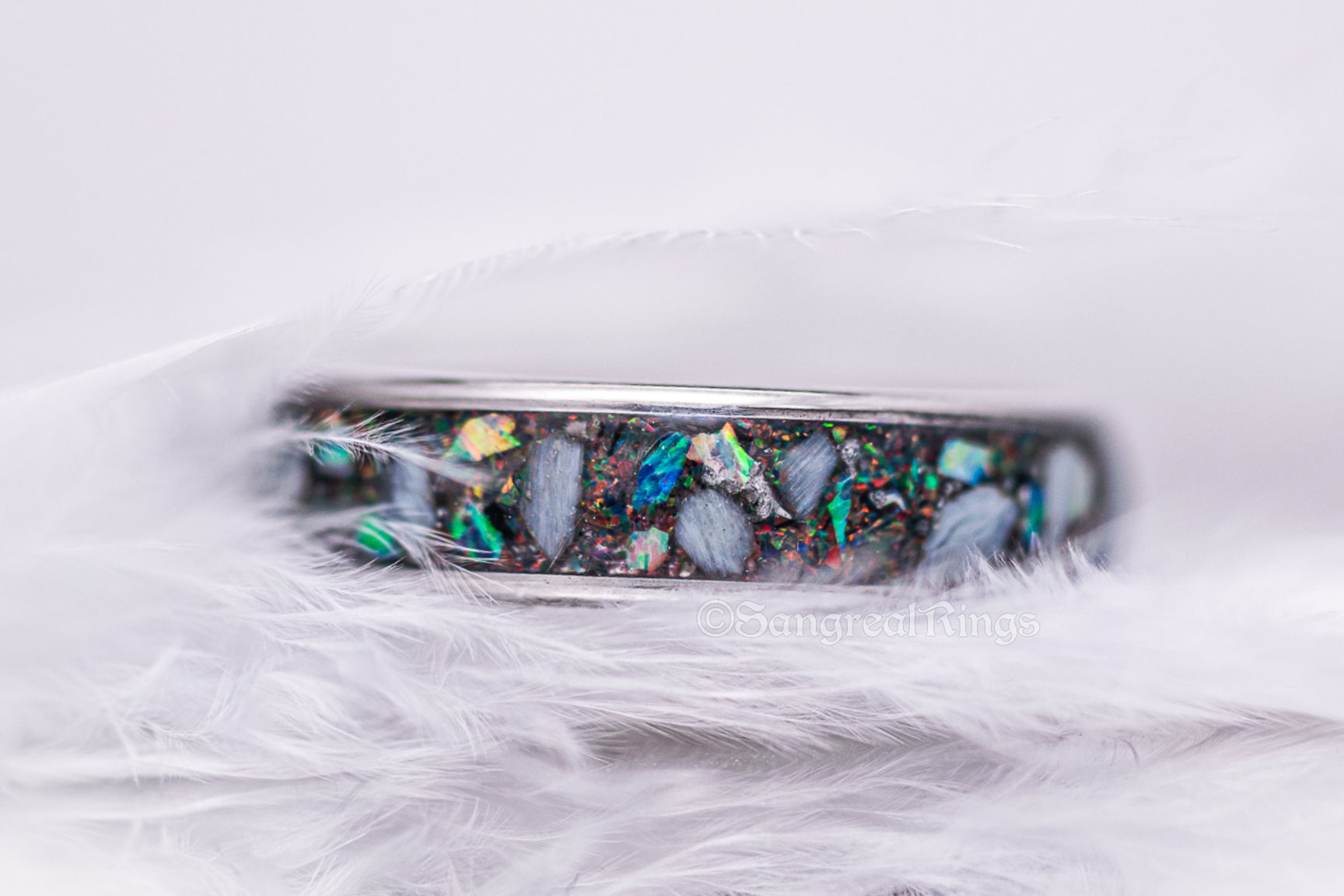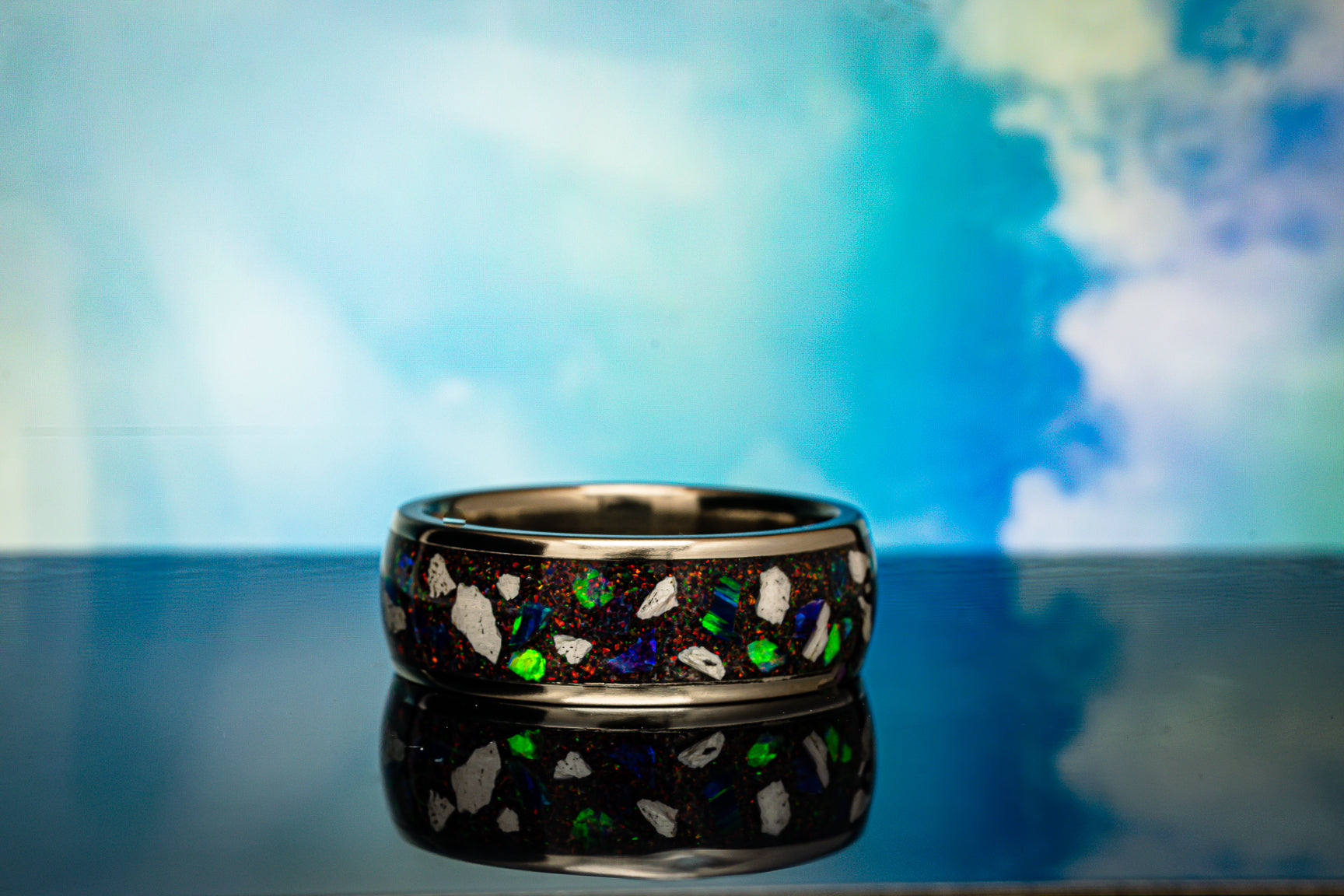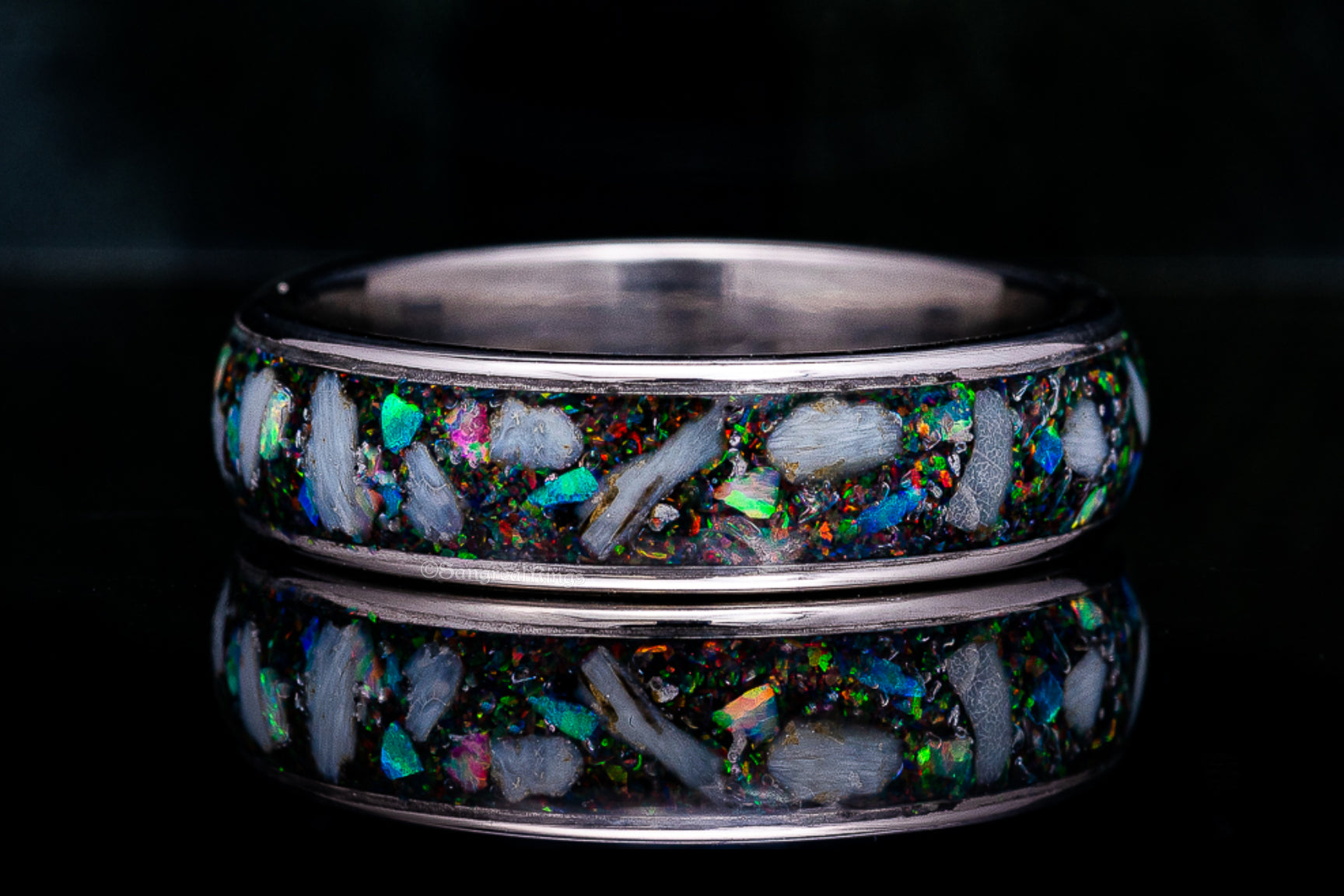 SIZE CHART
DIAMETER 

MM

US/CANADA

UK/AUSTRALIA

15.7 mm
5
J 1/2
15.9 mm
5.25
K
16.1 mm
5.5
K 1/2
16.3 mm
5.75
L
16.5 mm
6
L 1/2
16.7 mm
6.25
M
16.9 mm
6.5
M 1/2
17.1 mm
6.75
N
17.3 mm
7
N 1/2
17.5 mm
7.25
O
17.7 mm
7.5
O 1/2
17.9 mm
7.75
P
18.1 mm
8
P 1/2
18.3 mm
8 1/4
Q
18.5 mm
8 1/2
Q 1/2
18.7 mm
8 3/4
R
18.9 mm
9
R 1/2
19.2 mm
9.25
S
19.4 mm
9.5
S 1/2
19.6 mm
9.75
T
19.8 mm
10
T 1/2
20 mm
10.25
U
20.2 mm
10.5
U 1/2
20.4 mm
10.75
V
20.6 mm
11
V 1/2
20.8 mm
11.25
W
21 mm
11.5
W 1/2
21.2 mm
11.75
X
21.4 mm
12
X 1/2
21.6 mm
12.25
Y
21.8 mm
12.5
Z
22 mm
12.75
Z 1/2
22.2 mm
13
 
Amazing
I ordered 2 memorial rings - one for myself and one for my daughter - on the death of my husband/her father. I was somewhat apprehensive as I have never done anything like this before - I didn't even know this sort of thing could be done - but I needn't have worried. The whole process was handled with love and compassion and with a very personal touch. The rings are amazing - the way they change in different lights brings them alive and the different colours shine through - a light in the darkness of bereavement.
I loved the packaging - again highlighting that personal touch - and I felt that, whatever I asked for, it would be done. Thank you.
Simply stunning
Everything about my ring is just perfect, the design, fit and finish.
Fantastic customer service and great quality product.
I would definitely recommend to anyone.
Awesome service.
Was looking for a memorial ring and I could not ask for better. It looks stunning and matching everything I wanted it to. Would highly recommend
Thank you so much
Wedding ring
Ordered this product as a wedding ring (groom) as I wanted something much more personal than a shop brought band. It contains ashes from our two dogs that recently passed. It's arrived today, looks absolutely stunning, just like in the photos and videos I've been sent. It fits perfectly also. The communication has been brilliant throughout, from ordering, to progress and shipping updates. I couldn't be happier with this product. Highly recommended and thank you