Crushed Purple Opal - Titanium Core
Regular price

Sale price

$224.00
Introducing our stunning titanium ring with a breathtaking synthetic opal inlay. This ring combines the strength and durability of titanium with the striking beauty of synthetic opal to create a truly unique and exquisite piece of jewelry.
The titanium used in the ring is known for its strength, durability, and resistance to corrosion, making it the perfect choice for those who want a ring that will last for years to come. The synthetic opal inlay, with its iridescent colors and mesmerizing patterns, adds a touch of elegance and sophistication to the ring.
Each ring is carefully crafted with precision and attention to detail, ensuring that it meets our high standards of quality. The synthetic opal used in the inlay is of the highest quality and is selected for its brilliance and clarity.
Not only is this ring a beautiful piece of jewelry, but it also makes a meaningful gift for special occasions such as weddings, anniversaries, or birthdays. It's a perfect way to show your loved one how much they mean to you.
Whether you're looking for a special gift or a unique addition to your jewelry collection, our titanium ring with a synthetic opal inlay is the perfect choice. Order yours today and experience the timeless beauty and exceptional craftsmanship of this exquisite ring.
Share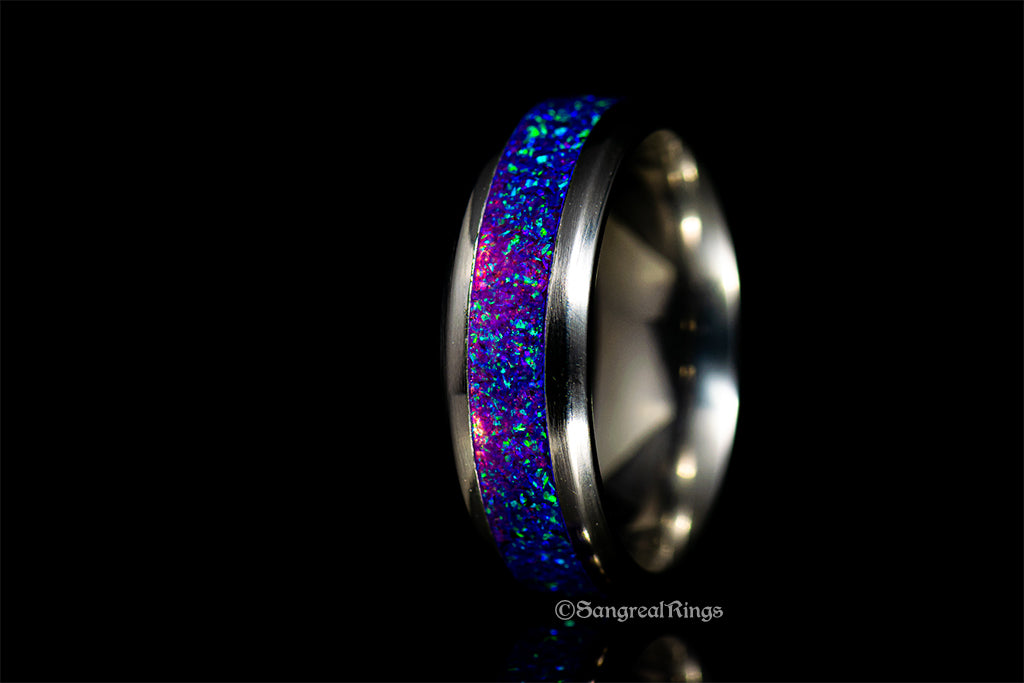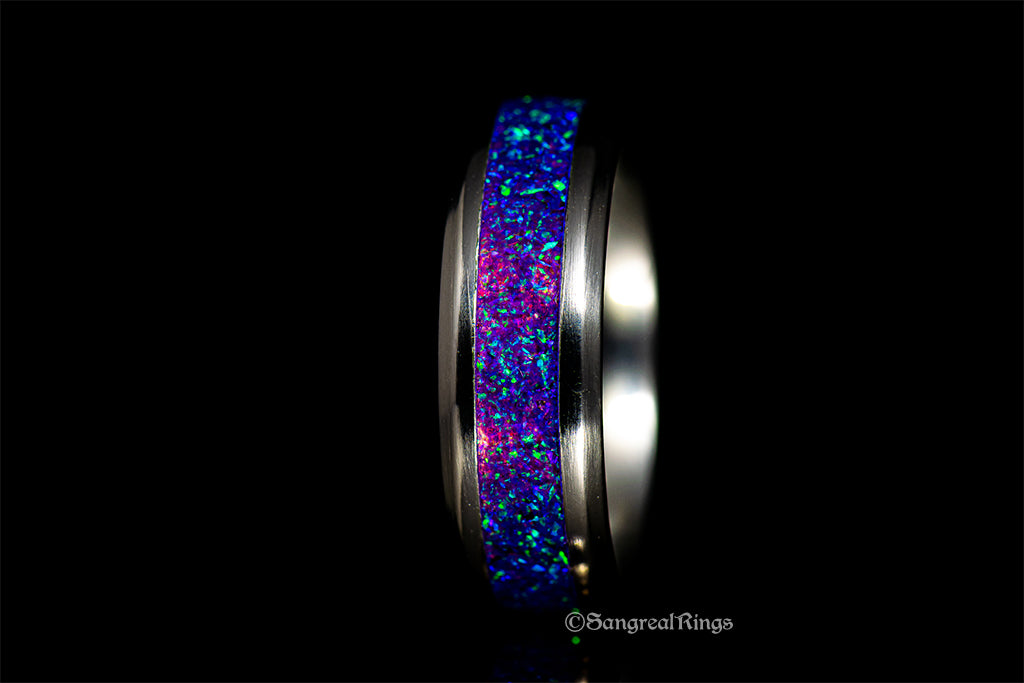 SIZE CHART
DIAMETER 

MM

US/CANADA

UK/AUSTRALIA

15.7 mm
5
J 1/2
15.9 mm
5.25
K
16.1 mm
5.5
K 1/2
16.3 mm
5.75
L
16.5 mm
6
L 1/2
16.7 mm
6.25
M
16.9 mm
6.5
M 1/2
17.1 mm
6.75
N
17.3 mm
7
N 1/2
17.5 mm
7.25
O
17.7 mm
7.5
O 1/2
17.9 mm
7.75
P
18.1 mm
8
P 1/2
18.3 mm
8 1/4
Q
18.5 mm
8 1/2
Q 1/2
18.7 mm
8 3/4
R
18.9 mm
9
R 1/2
19.2 mm
9.25
S
19.4 mm
9.5
S 1/2
19.6 mm
9.75
T
19.8 mm
10
T 1/2
20 mm
10.25
U
20.2 mm
10.5
U 1/2
20.4 mm
10.75
V
20.6 mm
11
V 1/2
20.8 mm
11.25
W
21 mm
11.5
W 1/2
21.2 mm
11.75
X
21.4 mm
12
X 1/2
21.6 mm
12.25
Y
21.8 mm
12.5
Z
22 mm
12.75
Z 1/2
22.2 mm
13
 
Wedding band
we love the wedding band we have received.
great customer service, amazing ring
Exceeded our expectations!
We received the ring today and it is just phenomenal. If you're thinking about buying one or on the edge… do it! This will be the perfect wedding ring for my partner and he was so stoked to see the finished product. Just beautiful.
Beautiful
Not only did they answer all my questions and gave input on how it would look best they also accommodated me and my traveling. Best experience i've had they're amazing at what they do and I couldn't have chose a better custom ring
Beautiful!
I ordered a custom purple wedding band and it is gorgeous! The team were really helpful and communicative during the design process and I loved watching it come to life on tiktok!